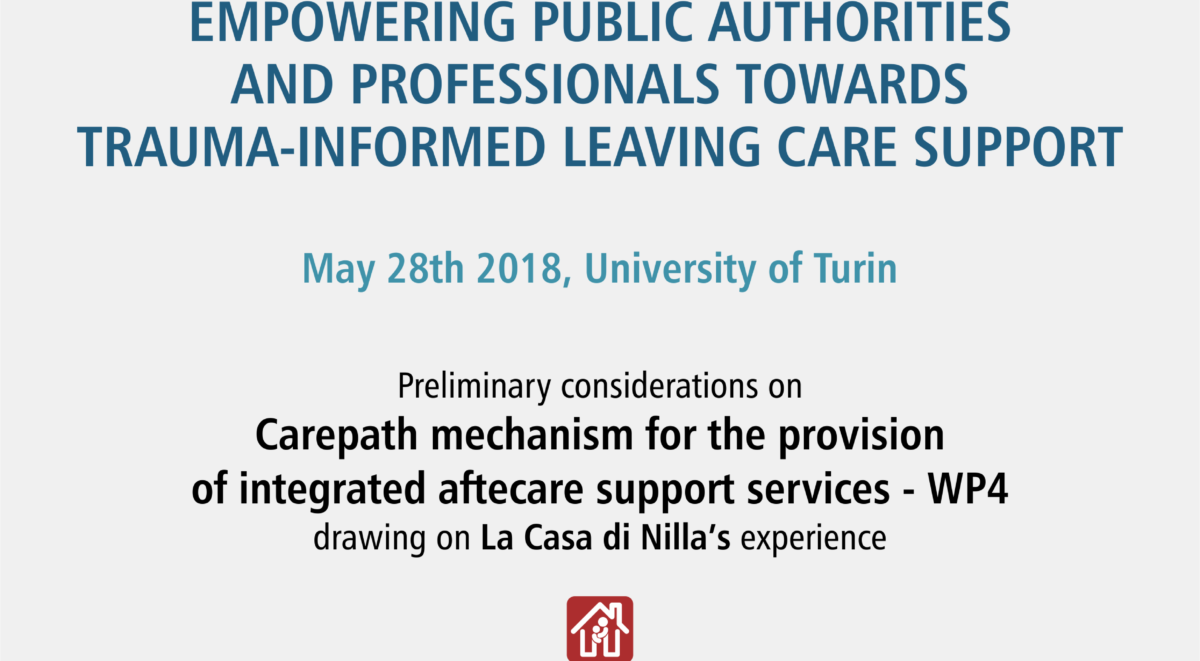 Preliminary considerations on Carepath mechanism for the provision of integrated aftecare support services – WP4. Drawing on La Casa di Nilla's experience
Ensure that children leaving care have access to adequate trauma-informed aftercare support.
Increase the capacity of professionals in child protection systems to support traumatised children.
Develop a sustainable mechanism for providing integrated psycho-social support services based on trauma-informed
interventions.
Activities
Identification of transferable working methods in integrated trauma-informed child protection systems.
Development of a training programme for professionals working with traumatised children.
Pilot testing of the programme, delivery of train the trainer and training seminars.
Establishment of the CarePath integrated service provision mechanism for cases of traumatised children leaving care.
Type and number of persone benefiting from the project
200 staff members of public authorities responsible for the protection of child's rights
400 Professionals (psychotherapists, arts therapists, social workers, psychologists, healthcare, teachers)
80 Children in alternative care & care leavers
140 staff members of training providers in psychotherapy, psychology, social work, education, healthcare
Expected results
Better trauma – informed support of children in preparing to leave care
Improved child protection systems in partners' countries, providing one-stop trauma-informed interventions
Better skilled professionals, developing individualised plans guided by trauma healing
Type and number of deliverables to be produced
Transferable good practices and policy recommendations
8 Field visits to involve adolescents in care and care leavers
Massive Open Online Course for professionals
CarePath toolkit and an integrated service provision mechanism
4 training pilots, 4 train the trainer seminars and 60h online delivery of training with at least 600 participants in total
Roadmap for public authorities to integrate project results in child protection systems
5 infodays, 4 roundtables and 1 EU conference with at least 740 participants in total